GENYOUth Foundation at the Fitness Mind Body & Spirit Games – What a day!
Posted by Alexis
Wednesday October 5, 2011
Categories:
Family
,
Fun
,
GENYOUth
We've had a busy few weeks here at GENYOUth! For those of you who follow me on Facebook (link to fan page?) and Twitter (link?), you know that the GENYOUth Foundation took part in an amazing event on Saturday, September 17th, called the Fitness Magazine Mind Body & Spirit Games in Central Park. It was a great event for the GENYOUth team, our corporate partners, and my entire family!
The GENYOUth experience tents had great giveaways and info from GENYOUth, and our corporate partners – The Quaker Oats Company, Discovery Education, Kraft Foods, and LALA Foods – as well as the chance to try out Microsoft Xbox's new Kinect games.We were also visited by the Jump Rope Queen and NFL greats Marty Lyons, Sean Landeta, and Amani Toomer – it was great to hear their tips on exercising and eating right in order to stay healthy.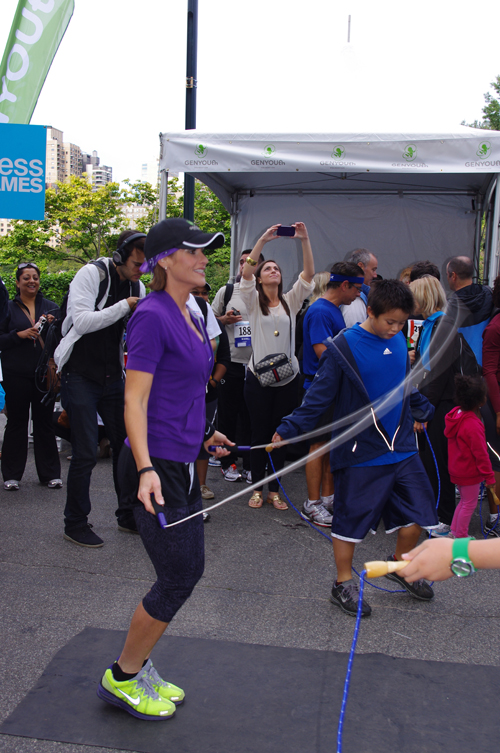 The day also featured men's and women's 4 mile races sponsored by New York Road Runners. We had a great time cheering on all of the racers, but the most run races of the day had to be the GENYOUth-sponsored kids' races, which began at 11 a.m. and featured races for kids ages 2-12. My 3 sons participated in the races, and Logan, my oldest, even won his race! Check out the video below – that's Logan crossing the finish line first, and his younger brother, Kyle, isn't too far behind!
The Mind Body & Spirit Games was a great day for both GENYOUth and our corporate partners, families, and friends. We also officially launched our website on Saturday. If you haven't yet, I encourage you to visit our website (link), take the pledge, and exercise your influence with us. Remember, it starts with you!